Top Web Design Tips for eCommerce Website to Boost Sales
Technology / June, 22 2020

A web design company could deliver great eCommerce web design to help convert web visitors into customers. Ideally, the design of the website should make for an easy, faster, and stress-free purchase process. No matter how great the online ads are, you could lose valuable clientele if your site is not sales-optimized.
Additionally, it could also be a waste of valuable money if visitors leave your site the moment they're on it.
Tips on Website Design to Boost Sales
1. Keep Users in Mind
Always keep users in mind with every decision you make on your web design. From product images to contract forms, every single detail could be a contributing factor to the decision of a user to buy. User experience is paramount to turn web visitors into customers and to turn customers into repeat buyers.
If you are not certain that your site has a good user experience, consider an eCommerce website development service provider like eTatvaSoft to help you develop a design that boosts sales.
2. Using Simple Web Design
Consistently rated as visually more trustworthy and appealing is minimalist web design. To optimize the eCommerce web design for conversions, consider streamlining it. Any information that's not necessary should be removed. Moreover, make sure to use a minimalistic design theme that has a lot of white space.
There should be no distracting images, videos, or links. The call of action as well should be defined clearly and the simplistic design sends off a minimalistic, professional feel.
3. Honesty On Pricing
When designing, always be upfront and honest regarding the prices of products and services. Never attempt to hide information or make it hard for visitors to find it on your website. You don't want your visitors to feel that they're tricked or deceived. The price transparency should also be applied to shipping. It's important to be upfront about the costs of shipping on products and shipping policies as well. Make it a point that your customers could see the total product amount, including shipping before they make a purchase.
4. Quality Pictures
Boost web design with high-quality images of products and perhaps even a video. For internet shoppers, the biggest pain point is likely the reality that they could not see a product in person, like with a physical shop. To help ease this, you would have to boost your web design with product images that are of high-quality and a video could even be added, depending on the product.
High-resolution images are a must. Blurred or pixelated pictures could turn away customers, thinking that they produce your offer is cheap. Photo galleries for each product is a good idea, so users could click through and see various product angles. A pop-up box is a wonderful feature where people could zoom in on a particular image and see the fine details.
Using lifestyle photos of people who actually interact or use the product is a great idea. Clothing is much more alluring when worn by a model, instead of worn by a mannequin or laid flat.
5. View Cart Button
It's proven that keeping this button visible at all times boosts the rates of conversion. Most eCommerce websites have a tiny shopping cart icon somewhere on each page, which enables users to see items they've added to their cart easily. Among the eCommerce web design strategies, this is one of the most vital.
Make certain that the icon is something that people could easily recognize, such as a shopping bag or shopping cart. Since this is one of the most critical buttons on the website, consider using bright colors to make it stand out from the background. Furthermore, it should be bigger than the other buttons.
6. Testimonials and Reviews
This helpful statistic could be used to your advantage by promoting conversions and sales.
Sixty-one percent of internet shoppers read customer reviews before buying. An effective strategy in web design is the inclusion of a product-centered review directly beneath the description of each product.
7. Keep The Products Organized
Organize products into specific categories. Make it easy as possible for users to find what they are looking for, make certain to keep the products on the site organized and divided into separate categories.
A menu bar helps keep categories easy to find and to simplify the search process. Furthermore, this provides users a glance into the product categories that they are not even aware that you have.
8. Navigation Menu
Menus enable users to navigate pages of the website easily. For maximum ease, the menu must appear across all pages, at the top of the page preferably. In some instances, menu bars are vertical along the left side to accommodate the F format.
However, you have to be careful to load up the menu with a lot of options, because this could look confusing and cluttered. If you have numerous pages and categories on the site, consider using a drop-down menu to organize them more easily without sensory overload.
9. Search Bar
This bar enables visitors to find the product they have in mind in a seamless manner. Most web visitors probably have a certain product in mind when they enter the site. If they could not find a way to search through the site for it, then most likely they would go to another site.
The search bar therefore must be situated near the top of the site, normally in the right-hand corner, to easily and quickly find it.
10. Show Product Scarcity
Building scarcity of products could play tricks on the psyche of customers. The best-sellers are those products that are often out of stock. More often, users notice products that are sold out, limited stocks in the homepage or category pages.
If visitors fear that they could be missing out on a product, it would result in buying on impulse, which of course boosts brand sales.
11. Contact Information
The contract information, as much as possible should be easy to find and should also include as much information. Should a customer have any query or problem while viewing the site, they would likely look for the 'contact us' page or scroll to the bottom of the homepage.
You wouldn't want to lose customers simply because you forgot to put your contact number or email address. There are several options, including your phone or cellphone number, email address, contact form, operation or store hours that let users send an email directly or even a widget to allow them to send an FB message directly to the company.
12. Simple, quick Checkout
Always simplify the entire checkout process. The higher cart abandonment rates are due to a complex checkout process. Simplifying it could include enabling users to check out as a guest. It's easy for visitors to be suspicious when they're required to put too much information when making a purchase.
13. Mobile Optimization
Today, a site that's mobile-optimized is paramount. The majority of sites are being opened and accessed from mobile devices. One of the biggest mistakes you could make is failing to make your website mobile-optimized.
A responsive layout lets your site adapt to any kind of operating system or screen, thus you need not worry about making a whole separate mobile website version for every device. Nonetheless, make certain that the sizes of the image and form fields would work on all platforms.
14. The "Thank You" Pages
The page serves very important purposes, thus do not forget to redirect a customer who makes a purchase to a thank you page. When someone makes a purchase on your site, redirect them to a thank you page. Thank you pages or order confirmation pages are a necessity to track conversion via social media ads in the right way.
15. Consistent Branding
Consistent branding across website pages makes standing out from the competition easy. Make certain that the logo could be seen on each page of the site, as well as keep the fonts and color schemes consistent. Nobody wants to click on a page only to wonder if they're entirely on a new site. The same exact design scheme and navigation menu should be maintained across all pages, to display consistency and trustworthiness.
16. FAQ Page
This page establishes more trust from website visitors. This page lets your visitors be aware that you're making an effort to be transparent with your goods and services. Moreover, they let users know you're serious in answering their questions and suggest that you have great customer service skills.
Having an accessible list of answers to common questions regarding the brand will establish you as an expert, which creates confidence in prospective customers. More likely, people would purchase from a company that looks knowledgeable and reputable.
17. Social Media Links
It inspires long-term relationships between the customer and the business. The most popular eCommerce shops have buttons linking to their social media on their site. Including social icons in the design invites customers to stay in touch, as well as encourages more long-term relationships between your brand and the customers.
Social media links on the site additionally have also been proven to enhance the SEO rankings. Make sure that the links open to your social media accounts in a new tab so people would not leave your site.
About Author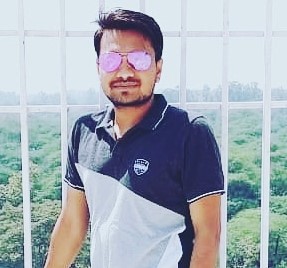 Mr. Lokesh Bansal
Lokesh Bansal is technical lead in Vidhema Technologies. He is responsible for Managing all mobile project from start to successfull delievery. He also played a very major role in all technical discussion within the orgination. He enjoys learning the small details of all modern technologies and use them in his project to make the standered high and delievery seemlessly.