App or Website? 7 Reasons Why Apps are Better
Technology / August, 11 2020

So the mobile era is here.
The number of mobile users today is greater than the number of desktop users! As a result, many companies have realized the need to effectually use mobile mediums for captivating customers. They have established new operations via mobile websites and apps. While businesses with fortunes can afford to employ both mobile websites and apps, other companies might have to opt for one of them.
The choice between mobile apps and websites rely on their expense, purpose, and the audience they serve. Consequently, businesses have realized the need to effectively use mobile channels for attracting customers.
They now need to optimize mobile apps and websites to improve their customer's experience and increase their conversions. Mobile apps are the best solution that requires regular usage. An application allows users to set preferences, create accounts, and keep vital information at hand.
On the basis of business, a mobile application is a much better option for targeting an audience and hence building marketing campaigns for different groups of users. While businesses with large wallets can afford to employ both mobile websites and apps, other companies might have to choose one of them.
In addition, there are various other reasons, too, that make mobile apps better than mobile websites.
Following is our list of the top 7:
#1 Mobile Apps Offer Better Personalization
Personalization is about offering tailored communication to users based on their interests, location, usage behavior, and more.
With mobile apps, it's easy to treat users with a personalized experience.
Mobile apps can let users set up their preferences at the start, based on which users can be served with customized content. But personalization needs to be done right, and I cannot stress this enough. There have been so many fails at personalization that you should never take this task lightly.
Apps can also track and observe user engagement, and use it to offer custom recommendations and updates to the users. Furthermore, they can also identify the location of the users in real-time to provide geography-specific content.
#2 Making Use of Mobile Device Features
Mobile apps have the advantage of utilizing features of a mobile device like a camera, contact list, GPS, phone calls, accelerometer, compass, etc.
Such device features, when used within an app, can make the user experience interactive and fun.
Moreover, these features can also reduce the efforts users would have to make otherwise. For instance, users completing a form on a banking app might need to submit their photographs for completion of the process. The app can let users take the help of the camera of their mobile device to capture and submit a photograph.
#3 Ease of Sending Notifications
For the last couple of decades, email has been the most widely-used business communication tool. Whether you're trying to drive engagement, drive sales, or push more total app installs – using push notifications in a personalized, respectful manner is a gateway to marketing success.
As always, remembering not to overstep the boundaries of customer privacy and preference with this delivery method is important, as is including it as part of your larger multi-channel strategy. Businesses have extensively used email to reach out to their users.
As a result, email has lost the effectiveness it once had; its open rates and click rates have constantly dropped. The notifications are of two types: push and in-app notifications. They both are exciting alternatives for communicating with app users in a less intrusive manner.
#4 Apps Can Work Faster Than Websites
The choice between mobile apps and websites rely on their expense, purpose, and the audience they serve. A well-designed mobile app can perform actions much quicker than a mobile website.
Apps usually store their data locally on mobile devices, in contrast to websites that generally use web servers. For this reason, data retrieval happens swiftly in mobile apps. Apps can further save users' time by storing their preferences and using them to take proactive actions on users' behalf.
#5 New Branding Experience
The race to own customer experience is on! Companies are recognizing the importance of delivering an experience that makes them stand out from their competition. Since a mobile app is distinct from a company's website, it has the liberty of offering a new branding experience to users.
Be it customer service, product quality, or just the way the customers feel about the companies they do business with, customer experience rises to the top of whether or not the customer will decide to keep doing business with a brand. It means that the company can experiment with new branding styles for the app, which can be different from the regular brand style of the company's website (or the company altogether).
#6 Freedom in Designing
No designer wants an overbearing, micromanaging client. After all, designers are creative by both name and by nature and want the freedom to do what they are paid to do. Even with all the technological advancements in web designing, mobile websites have to rely a lot on browsers to perform even the most elementary functions.
Mobile websites depend on browser features like the 'back button,' 'refresh button,' and 'address bar' to work. But you have to see things from the client's perspective as well. It's their product or service you are designing for, something they care deeply about.
#7 Ability to Work Offline
It is probably the most fundamental difference between a mobile website and an app.
While making your app work offline you will often need to store data directly on the client's device. This allows your application to work effectively even when there is no connection. Although apps too might require internet connectivity to perform most of their tasks, they can still offer basic content and functionality to users in offline mode.
There are several different methods or levels of offline data storage that make an app run offline. It can be different for different mobile platforms (iOS, Android, Windows phone, and other) and we'll go through each of them. The app can provide features like tax calculation, installment calculation, and determination of loan limit. These features can work even without the help of an internet connection.
Mobile App v/s Mobile Site — What Should You Choose?
With everything going mobile, businesses have also gone mobile. It means that they have started to market their brands over the web through websites and mobile applications. Developing both mobile websites and mobile app for your business can prove to be a costly affair. You might have to choose one of the two channels, based on your budget and business goals.
While both channels have their own pros and cons, mobile apps, especially, can help you get higher conversions. Mobile apps offer greater personalization and operational efficiency, along with multiple other exclusive features.
About Author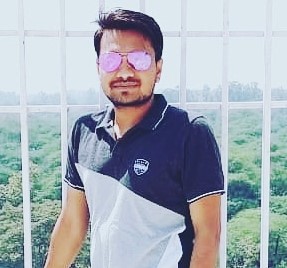 Mr. Lokesh Bansal
Lokesh Bansal is technical lead in Vidhema Technologies. He is responsible for Managing all mobile project from start to successfull delievery. He also played a very major role in all technical discussion within the orgination. He enjoys learning the small details of all modern technologies and use them in his project to make the standered high and delievery seemlessly.