How to Improve your Mobile App Usability?
Technology / September, 09 2020

Today millions of apps are available in various mobile marketplaces including Apple Store and Google Play Store. To avoid congestions on the home screen of mobiles and make informed decisions for the app, mobile app users look at various tricks that work effectively. so much so, people are often unaware of how small the gap between their digital and real-world actions is. Digital services are officially an extension of subconscious human behavior.
Among the many such tricks, looking for mobile app user reviews in app marketplaces as well as on the leading or prestigious review sites. Usability is a significant part of mobile app development, and it plays an essential role in creating user experiences that are efficient and enjoyable. Overlooking something as simple as navigation in a mobile app can severely impact the product's user experience (UX). Therefore, regarding the term usability sprung in our mind and we like to get accustomed to the word usability.
What is the Usability of your Mobile App?
Usability efforts make your mobile app usable enough for your targeted audience. Your targeted users should have easy access to the services you offer in and through the app. Thus it comes as no surprise that there has been an explosive increase in the number of phone applications especially those for games and social media.
Whether you have developed awesome UI with all bells-n-whistles or created sumptuous interactions using the latest tools and technologies, your app may consider an incident of failure it misses usability at all. It indicates the significance of usability while investing your hard-earned money on a mobile app development project. Now, the question is how to improve your mobile app usability.
How to Improve App Usability using UX Design?
The obvious reason for these figures is the increase in mobile usage among people. People have started scrutinizing the User Experience (UX) of any mobile application, along with viewing products, comparing prices, reviewing, purchasing, etc.
It does not mean that UX alone is not sufficient to enhance app usability, rather usability is a part of user experiences. So, if you want your users to spend more time on your mobile application, then you have to make it more user friendly and interesting.
Thus, without the help of UX, we may never refurbish app usability. In usability, UX designers can focus on following significant factors to improve it.
Learnable: The design interface must be easy enough to learn for any level of a user, so users intuitively come again-and-again to use your app.
Usefulness: While using the app design interface, your app users should feel easy to use it and should able to get proficiency quickly.
Likable: UI must evoke positive emotions to use the app.
Effectiveness: The design interface of the app must enable users to hit their intended goals easily.
With these insights, let's get some practical or applicable tips to enhance mobile app usability using UX design principles.
Follow the Best User Experience Design Tips to Improve App Usability
1: Improve Findability in App Design:
We know users come on your app to solve their problems or find their intended products or services to buy it. If your app is poor in findability to provide effective navigation, search feature, or useful links, they likely bounce back to your competitors' apps. If your app has enough volume of content, products, or services to make, app users confuse, your first duty is to provide an in-app search engine to find it all with ease and quick results.
Today we have faceted search, suggestive search, and filtered search functionality to leverage the latest technologies to deal with high-level complexities. Intuitive and easy navigation design, information architecture, and advanced search functionality can ease user journey a lot, and improve app usability to a greater extent.
2: Be Native in App Design:
Unlike web applications, mobile applications are mobile OS centric when user experiences come into the picture. Particular mobile OS requires particular hardware sets. Therefore, without the support of hardware and mobile OS, no mobile app can access all platform-specific features and functionality.
Therefore, if you want to develop an app for the iOS platform, you should have tested your app within the Apple ecosystem, with iOS devices and iOS version compatibility. The same is somewhat true for Android, Microsoft, and Symbian like other platforms too. If you think of cross-platform app development instead of going for each platform with individual app investment, beating native experiences is miles away despite the advent of technologies and tools.
3: Bring Consistency in App Design:
Consistency in UI design is concerned with making sure elements in a user interface are uniform. They'll look and behave the same way. This helps constantly prove a user's assumptions about the user interface right, creating a sense of control, familiarity, and reliability.
For instance, your logo and header design of your app UI assure users that they are not missed their path. Similarly, consistency in the navigation system provides consistent user experiences. Another thing is branding, which again comes with a consistent branding-oriented design. Apart from internal app design consistency, we can take granted design for conventions as the best UX design practice.
4: Bring Simplicity in App Design:
We know our targeted users are visiting the app by keeping some goals in mind to accomplish using the app and its interface. Now, if you create obstacles in the way of users to hit their goals, they may frustrate or lost the straight path that helps them reach faster. Those obstacles in the way of users may be additional, but unwanted features and functionality in your mobile app that may frustrate them or misguide them to achieve their targets quickly and easily.
If you want to design for simplicity then make sure it permeates your entire design. Fonts, icons, colors, and patterns should all feel very simple and approachable. This makes the technical design work a lot easier so you can put more effort into the user experience.
Conclusion:
Now, we know that app usability is a deciding factor for app success. Moreover, we have seen some important UX design tricks and tips to improve app usability to some extent.
However, UX design is a big container, and app usability is belong to it, we as app owner or non-tech entities are unable to decide which app UX design can help us to improve usability indeed.
About Author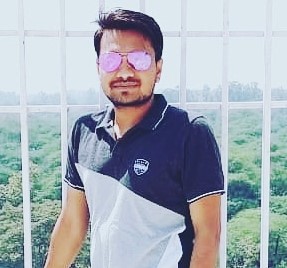 Mr. Lokesh Bansal
Lokesh Bansal is technical lead in Vidhema Technologies. He is responsible for Managing all mobile project from start to successfull delievery. He also played a very major role in all technical discussion within the orgination. He enjoys learning the small details of all modern technologies and use them in his project to make the standered high and delievery seemlessly.