Android vs iOS: Which Platform to Build Your App for First?
Technology / January, 18 2021

If you are thinking of launching an app but not able to decide which platform to build your app for first? then you are at the right place. Here we'll discuss the pros and cons of iOS and android and the important factors which will help you to decide which platform you have to choose to build your app for first.
In this continuous change in technology new features, high camera quality, faster speed all that you can see in both android and ios. When it comes to mobile app development it's critical to choose the one because of its features and demand. According to research, iOS is more popular in the US and Japan. In-country like India and China, androids are more popular. Android enjoyed an 87 percent share of the global market in 2019 and iOS holds 13 percent shares.
Which Platform to Build Your App for First?
There are so many factors including deciding the platform to build your app. Both platforms have their pros and cons. Let's have a look:
Pros of Android App Development:
1. Flexibility: In android, you have the flexibility to download free third-party apps without any interruption or extra charges. It also offers working in a low battery situation. Android provides lots of free features and functionality.
2. Open-Source: Its open-source mobile operating system allows developers to download and change the source code whenever they want. This feature is restricted by ios. Android open-source features generate more interest among app development companies.
3. Immense popularity: Android is gaining huge popularity because of its latest and fast features at affordable prices. In India, the android market is so wide because more than half of the population prefers android.
4. Design: Latest android designs coming pretty and lightweight with easy to use features. Its layout and interface are user-friendly.
5. High ROI: Androids are cost-effective compared to other platforms. The testing, designing, development of apps is not expensive. Android app development benefits you to get high-quality, interactive, easy to use apps at a lower cost and high return on investment(ROI).
Cons of Android App Development:
1. Security: There are lots of security issues with android phones. If you won't update your phone regularly then there are so many chances to get hacked. IOS provides high security on every device. So it's recommended to regularly update your phone and make a strong password for it.
2. Fragmentation: Device fragmentation is a big issue in android devices. To overcome these issues many companies sacrifice the app quality that results in a poor user experience. If app development companies want to deliver responsive app design they will have to take care of this challenge.
3. Testing issues: There are a wide variety of Android versions and hardware and because of this specialists have to spend more time thoroughly testing apps on every model.
Pros of ios App Development:
1. High security: Security is a primary concern for companies and customers and iOS maintains high security compared to android.
2. Performance: There are two best things about ios one is security and the other is its high-quality mobile apps with faster and better performance. The result is that you don't have to compromise with the quality and performance of ios devices.
3. Great user experience: With its excellent quality of hardware and software, iOS apps provide a great user experience on iPhone it also contains high-quality programs for its users.
4. Less development time: Android has a wide variety of versions so when the app has been developed it is tested on every model and it takes 30-40% more time, but in the ios app development process there are no such things as android so it takes less time.
5. Fragmentation and easy testing: Apple has a lower fragmentation because it comes up with only one update. As compared to android devices there are very few types of apple devices so its testing is so easy and fast.
Cons of ios App Development:
1. No flexibility: IOS apps are restricted and have standardized guidelines. You can't download any third-party apps on Apple devices, also the developers have to follow iOS design guidelines and proper framework that will affect the app's popularity.
2. Expensive: Apple devices are more expensive than android and developers need iPhone, MacBook, or iPad for testing which is costlier. The initial investment on ios apps is way more costly that is why Apple devices are also costly.
3. App release: When it comes to releasing apps, Apple has strict guidelines that you have to follow. If you are not following every guideline there are chances of rejecting or cancellation of your app.
Why Not To Build On Both The Platforms:
It depends on your audience because you already know that android has the lead in the mobile market. In India, a large number of the population prefer to use android. It is also risky and expensive to invest and build the app on both platforms. We'll recommend that once the app goes successful on the first platform then go for the other one.
Conclusion:
According to the above discussion, there is no winner between ios or android it depends on your audience and which type of app you are going to build. By keeping in mind the pros and cons of android and ios you also have to consider your budget, market demand, and taste of your audience.
So which one are you going to choose? Which platform to build your app first? Android or ios? Share your views in the comments we would love to hear from you.
About Author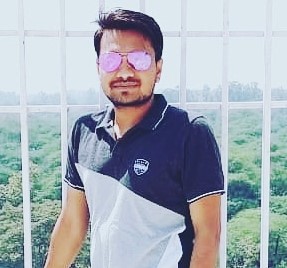 Mr. Lokesh Bansal
Lokesh Bansal is technical lead in Vidhema Technologies. He is responsible for Managing all mobile project from start to successfull delievery. He also played a very major role in all technical discussion within the orgination. He enjoys learning the small details of all modern technologies and use them in his project to make the standered high and delievery seemlessly.