The Good and the Bad of React Js Development
Technology / April, 30 2021

ReactJs is a powerful tool for creating attractive user interfaces. User interface (UI) is an essential part of a web application and the first thing that the user interacts with. ReactJs was developed by Facebook, in 2013 by Jordan Walke. Now it is one of the most loved and wanted platforms for developing innovative user interfaces for single-page applications. Are you considering developing a project using ReactJs? If yes, then learn about its advantages & disadvantages to make sure it suits your needs.
In this blog, we're going to explain the good and the bad of React Js development. Read and understand these points before developing on ReactJs. Let's get started.
The Good Of ReactJs
Virtual DOM: The Document Object Model (DOM). It defines the tree-like structure of an HTML document. React offers regular updates with the help of DOM's and interacts with a lightweight copy.

Easy to learn & use: It is much easier to learn and use. With the help of lots of free tutorials and documents on the internet, you can learn it easily.

Reusable components: It is made up of multiple components and each one has its control. These components are reusable pieces of HTML code that allow you to reuse them whenever you need them. Reuse of these codes helps to develop and maintain apps easily.

Easy to create web applications: In ReactJs it is easy to create dynamic web applications that are used to be more complex. ReactJs simplified the complex coding by offering high-quality features & functionalities.

High performance: ReactJs uses virtual DOM that helps to improve the application performance. Virtual DOM allows pages to immediately receive the updates from the server.

Advanced & light tools: It contains a set of handly and advanced tools which can make things easy and understandable.

SEO-Friendly: ReactJs contains advanced features that help developers to navigate the application on various search engines.
The Bad Of ReactJs
Poor documentation: ReactJs is a new technology, it helps developers to create advanced and smooth applications. But because of receiving constant updates, the documentation part of ReactJs is very poor. The fast development process leads to a lack of time to make proper documentation.

The high pace of development: React is a new technology coming up with new and advanced features. It may be hard for some developers to learn the new and advanced ones.

Only UI focused: It covers only the UI part of an application and nothing else. So if you want other things, you need to choose some other technologies.

JSX barrier: It uses JSX. It is a barrier for new developers because it is complex to learn this and understand it completely.
Conclusion:
It is proved that ReactJs creates interactive UI that helps to attract customers and build brand image. Everything has it's good & bad it all depends on the needs & requirements of your business. If it suits your needs then it is better to choose ReactJs. This is all about the good and the bad of React Js development. Hope it'll be helpful for you. Please do share your views in the comments and if you are interested in developing an application on ReactJsthen, connect with us to discuss in detail.
About Author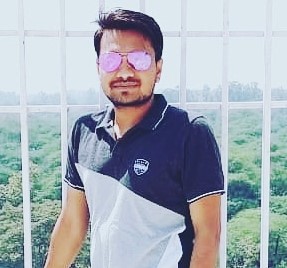 Mr. Lokesh Bansal
Lokesh Bansal is technical lead in Vidhema Technologies. He is responsible for Managing all mobile project from start to successfull delievery. He also played a very major role in all technical discussion within the orgination. He enjoys learning the small details of all modern technologies and use them in his project to make the standered high and delievery seemlessly.